University Ministries - Opportunities for MAs & Interns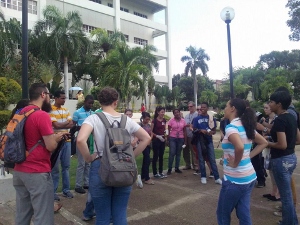 Jamie and Berly's vision for launching of university ministries on the many public and private universities in the Dominican Republic has become REALITY in Summer 2014 with the opening of Uconexion and Puente Community Center 1 block away from the UASD university, with 180,000 students.
The vision is to expand over the years as there are more than a dozen with hundreds of thousands of students right in the capital city, Santo Domingo.
We need trained young adults who have a passion for university ministry to invest a year or more as a Missionary Associate in order to help us see this vision become reality. If you are interested, please
contact us
and check out the
wideopenmissions.org
website and read the information about Missionary Associates. You can ask us for job descriptions available if you like as well. They include: youth ministry work, university campus ministry work, media/video editing, administrative assistant. Then contact us for more specific information if you are still interested --
jamie@bellos.org
We have specific MA position requests for university ministry interns on file with the AGWM Personnel and Family Office.